Frequently asked question
Have a question? We can help you answer.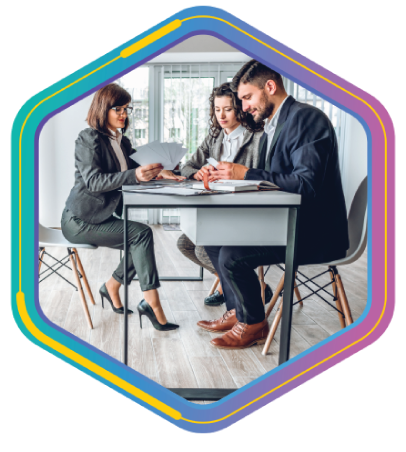 01.
What's the difference between Microsoft AppSource and Azure Marketplace?
AppSource includes business and industry solutions, such as apps that integrate into Microsoft 365, Dynamics 365, and Power Platform services.

Azure Marketplace includes IT and developer solutions that are built on Azure or used within Azure subscriptions themselves.
02.
Why should I make my software or services available in the Microsoft commercial marketplace?
The commercial marketplace is a starting point for Go-To-Market collaboration and enablement with sales channels and Marketplace Rewards. The websites and in-product experiences give your products visibility to millions of customers who are seeking solutions like yours. You don't even need to build or buy the commerce capabilities. The commercial marketplace is available in 141 regions, on a per-plan basis.

Microsoft manages tax payment in many countries/regions, and Microsoft provides access to our global channel network of resellers. You can use a customer's Microsoft Customer Agreement or Enterprise Agreement to sell to organizations without having to create a new buying relationship.

Strategically speaking, Microsoft will have more visibility into your pipeline, current customers and future geo expansion. Being IP Co-Sell Incentivized results in your solution receiving an elevated level of attention from Microsoft's sellers, as your sales contributes to their Azure sales targets. Your success becomes their success.
03.
How can customers engage with my offers in the commercial marketplace?
The ways that customers can use your commercial marketplace offer depend on how you create the offers.
For solutions that you provide automatically, whether they're paid, bring-your-own-license (BYOL), or free, customers are urged to Get It Now.
Offers that support a test drive (demo) request the customer to Test Drive.
Software as a service (SaaS) offers that provide a trial outside the commercial marketplace say Free Trial.
Simple listings allow the customer to request Contact Me.
04.
Who's responsible for supporting customers?
Commercial marketplace publishers are responsible for supporting their software, and Microsoft is responsible for supporting the purchase, billing, payments, and subscription management experiences.

When the offer removal is initiated by the publisher, the publisher owns communication of the removal to the customer.
05.
What are leads from the commercial marketplace and what should I do with them?
As customers use your offers on the Microsoft AppSource and Azure Marketplace online stores, information is captured. After customers have demonstrated enough interest, a lead is created, and an opportunity is sent to the system of your choice. Publishers who are successful with the commercial marketplace often pursue leads, develop relationships, and turn interest into deals.

For more information, see Customer leads from your marketplace offer.
06.
What's the difference between transaction and monetization?
Transaction is the exchange of money for goods. An offer is considered transactable in the commercial marketplace if it has a price and is paid for by the customer through our billing and collections.
Monetization is the ability to charge money for your intellectual property, which can happen within or outside our commerce platform. For example, your bring-your-own-license (BYOL) Teams app can be monetized with a transactable SaaS licensing service.
01.
What terms of use options are available with the commercial marketplace?
As a publisher, you can set the terms of use for your software solution, which customers must accept as part of the purchase flow. To simplify and speed things up, Microsoft provide a Standard Contract that you can choose to include in your terms and conditions. This lets customers review the Standard Contract one time, get approval from legal and buying teams, and then focus on the amendments for each offer.

You can create changes that apply to all customers, or you can make the changes specific to certain customers. You can also fully customize your terms and conditions, which can be entered into a text box in Partner Center.

To learn more, see Standard Contract for the Microsoft commercial marketplace.
02.
Can I sell professional services through the commercial marketplace?
Software that's built on or built for our cloud services can be transacted through the commercial marketplace. Any form of professional services – external to the solutions offering - would require unique terms between you and the buying party.

This form of agreement can be mentioned and supported in the terms and conditions of your listing. The invoicing of these services will fall under the responsibility of the ISV.

Whilst professional services are not yet transactable. Stactize best practices suggest using metered dimensions to invoice supplementary services such as consulting, configurations, add-ons and/or additional usage
03.
What is the difference between the MACC and EA agreement?
The difference between an EA and a MACC agreement is that the EA agreement is focused on Microsoft services, which include support and licenses. Whereas the MACC agreement is specifically focused on cloud spend (Azure consumption) and entered into directly with Microsoft Sales.
04.
What agreement would Microsoft's Customers need to agree to when procuring a SaaS service via the Azure Marketplace?
The publisher would have an Agreement for its Service Offerings being procured (via the Azure Marketplace). This would be the standard MS agreement to become transactable via the Marketplace (excluding the additional wording/agreements that the publisher will need to be included for the use of its Services/SaaS). To learn more, see Standard Contract for the Microsoft commercial marketplace.

Microsoft would then have a back-to-back Agreement with those customers that want to procure the publisher's services via the Marketplace.

Customers can also use their EA or MAC agreement for procuring the publisher's services via the Marketplace.
05.
What agreement would a Publisher need to have with Microsoft to offer their service via the Azure Marketplace?
The Microsoft Publisher Agreement: https://learn.microsoft.com/en-us/legal/marketplace/msft-publisher-agreement
06.
In terms of contracts, we can provide a standard contract, but they are rarely ever signed without some amendment being made on request by the client. What impact would this have on our listing?
If a customer requests an amendment to your contract, this amendment can be added into either a private plan or private offer where this amendment will only be applicable to that specific customer/client.
01.
How do I configure my payout method and destination?
With Partner Center, users with Owner permissions can set up the payout account and tax forms. Users can do this by selecting the Settings button (gear icon) at the upper right.

For more information, see Set up your payout account and tax forms.
02.
When are customers billed for their purchases in the commercial marketplace?
Customers are usually billed monthly for any purchases in the previous billing cycle. Consumption-based offers with metered billing plans, such as VM images, SaaS applications, and managed applications, are charged after they've been used. Subscription-based plans are charged at the beginning of the term.
03.
Who pays for the underlying Azure consumption?
If the solution is used directly in a customer's Azure subscription, the customer is responsible for paying the Azure costs. If the solution is used in your Azure subscription, such as in the case of SaaS applications, you're responsible for the Azure costs. You should account for that in the cost of the customer's SaaS subscription.
04.
How often will I receive payouts for sales through the commercial marketplace?
Payouts happen monthly. For details on payment schedules, finding your upcoming payouts in Partner Center, and how Microsoft deal with customer non-payments, see Payout policy details.
For transactions where the customer used an Enterprise Agreement, payouts are issued in the next payout cycle 30-days post customer invoice.
For transactions where the customer used a credit card, there is an additional 30-day escrow period after Microsoft receive payment to ensure funds clear and there are no chargebacks or suspected fraud.
Payouts are issued only when sales have reached a minimum combined value of $50.00.
For more information, see Payment thresholds, methods, and time frames.
05.
What payment methods are supported with the commercial marketplace?
Microsoft AppSource supports credit card payments. Azure Marketplace supports credit card payments or invoicing. Offers purchased through Azure Marketplace are automatically added to customers' Azure bill and are charged according to the payment method associated with their subscription.
06.
Are clients able to select between monthly and annual billing? If so, does Microsoft bill accordingly?
Yes, you can set up the listing to have both a monthly and an annual billing option. They bill accordingly. The customer has the choice to select which billing option they deem most fitting.
07.
How are annual renewals handled?
The SaaS (Software as a Service) subscription is automatically renewed by Microsoft at the end of the subscription term of a month or a year. The default for the auto-renewal setting is true for all SaaS subscriptions. Active SaaS subscriptions will continue to be renewed with a regular cadence. Microsoft provides inform-only webhook notifications for renew events. A customer can turn off automatic renewal for a SaaS subscription via the Microsoft 365 Admin Portal. In this case, the SaaS subscription will be automatically cancelled at the end of the current billing term. Customers can also cancel the SaaS subscription at any time.
08.
Are there any withholdings Taxes that foreign / overseas clients would need to consider?
There is a lot of information available RE: Above. I have provided a link to cover most of your questions. There is a lot to consider, especially with overseas clients and Microsoft-managed countries.

Tax details for commercial marketplace publishers.
09.
If a user changes from a plan with a free trial that has been exhausted, to a different plan that also has a free trial, will the free trial be reset?
No. After a customer starts paying for a plan, they can't get a free trial on the same offer again, even if they switch to another plan that supports free trials.
10.
Is the 3% transaction fee / commission charged by Microsoft once-off or applicable to renewals as well?
The 3% fee is charged on any transaction via the Azure Marketplace, this includes once-off costs, monthly subscription fees and renewals.
01.
We can be transactable within 2 weeks of project kick-off
Enablement would need to be completed first. You can be transactable 2 weeks after the initial dependencies are complete.
02.
We can be transactable on the Azure Marketplace even if our sales are not "self-service" but rather require prospects to contact us first and go through our normal sales cycle before signing up.
We can ensure you maintain a 'contact us' listing so that you can have a self-service avenue. However, I would suggest to rather identify leads through a free trial. Then beginning the sales cycle to eventually upgrade them to a paid plan.
03.
Once transactable we will automatically qualify for the MACC (Microsoft Azure Consumption Commitment) programme.
You would still need to be co-sell incentivised. But at that point, yes, it is an automatic qualification.

A MACC agreement will bill like an Enterprise Agreement, as both are prepaid usage.
04.
How does becoming transactable improve our status with Microsoft? What is the partnership benefits we unlock as soon as we become transactable?
Simplify procurement, standardized contracts, access to tools.

Transact offer, you are eligible for lifetime benefits and rewards. As your revenue in the cloud marketplace grows, the incentives move from simple awareness support to demand generation, co-selling, lead development as well as sales enablement opportunities. Put simply, as your revenue increases, Microsoft becomes more vested in your growth and offers more comprehensive rewards and incentives.

Marketing benefits
Partnering and global expansion readiness assessment
Commercial marketplace marketing toolkit
Marketplace rewards testimonial
Customer success story
Partner spotlight in Microsoft internal commercial marketplace newsletter
Microsoft executive event endorsement
Individual guest blog post
Featured homepage placement
Social promotion spotlight
Sales benefits
Azure sponsorship for development/proof of concept
Microsoft seller webinar
Solution spotlight to Microsoft sales team
01.
What are some of the end customer benefits afforded by listing my solution on the azure marketplace?
Azure Marketplace simplifies software procurement and IT management (with their various pricing options and multiple deployment methods) to give you flexibility to meet your unique business needs. It also streamlines procurement with standard contract agreements, consolidated billing and invoicing, and centralized subscription management.

Every product available in Azure Marketplace has been certified according to specific criteria. We still encourage you to review each product carefully to ensure it meets your organization's unique requirements. To learn about the certification policies we review for each offer type, see the commercial marketplace certification policies.

Purchasing your software via the Marketplace can also contribute to their commitments signed with Microsoft, resulting in Committed Consumption depletion and better discounts moving forward. In turn, this gives Microsoft better visibility into the organization's make-up of deployed software, resulting in better support and a higher level of engagement from MS support and technical experts to support their overall environment.
02.
Can only Microsoft Partners procure via the Marketplace?
To procure via the Azure Marketplace, the end-customer would need to configure a profile to accept the Marketplace agreement and to setup a billing profile, so in short, yes, but it is not a massive process.
03.
Besides companies that have MAC agreements, can any Microsoft partner or customer procure via the Azure Marketplace?
Yes, any Microsoft Partner can procure and does not need a MACC or an EA signed with Microsoft. Azure Marketplace helps you simplify the procurement process through different purchasing options. If you purchase products using a credit card associated with your Azure account, all purchases will be consolidated on a single invoice and billed to the credit card of choice. If you are a large customer, you can purchase using an Enterprise Agreement. With an EA, any software purchases are automatically included in your Azure invoice. Your invoice will contain Azure usage charges first, followed by Azure Marketplace charges.
When you purchase through Azure Marketplace, you eliminate the complexity of managing individual vendor relationships and invoices. You get a single, consolidated monthly bill from Microsoft that includes both your Azure Marketplace purchases and your Azure charges.
04.
What incentives and/or recognition will the Microsoft account/partner managers get to assist in marketing/selling iiDENTIFii's offering via the Marketplace?
The account teams receive incentives/recognition for customer ACR (Azure Consumption Revenue). If an end-customer purchases your solution, a % of the ACV (Annual Contract Value) deducts from the account team's ACR Target for the year, and with it being transacted via the Azure Marketplace, an additional $20k is deducted from their ACR Target.

There is also another mechanism that comes into play, called PRACR (Partner reported Azure Consumption Revenue), where you as iiDentifii report on a per customer level your Azure Consumption, this also contributes toward the respective account manager/executive.
05.
Would a company only use their respective MAC agreement if they have over-budgeted on their consumption commitment?
When a company commits to spending for example R1mil when signing their MACC, they negotiate a discount with Microsoft that they commit to spending this amount over x number of years. If their spend is below the R1mil, they incur penalties and a lesser discount when negotiating the next MACC. But if they spend more than what they committed to, they will potentially be able to negotiate a bigger discount with the next MACC and potentially receive incentives from Microsoft.
06.
Would the SA customers procuring our services via the Marketplace get Microsoft's BEE rating – as they would be invoiced via Microsoft?
Microsoft will be the vendor on record, as your solution procured via the Azure Marketplace will get added to the Azure Invoice payable to Microsoft by the customer.